Post and view pre-market listings and want ads
offMLS is a place for real estate brokers to swap information about properties that are for sale or rent but not listed on the MLS.
Want in on the secret? Register or log in now — membership is free.
Join offMLS
Sign In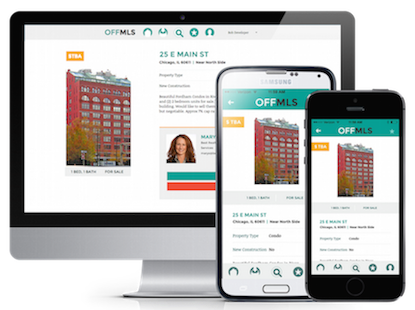 UPDATES
 We're happy to announce that offMLS version 1.4 is now live!  Take a look 
Something went wrong with the twitter.
Brokers only
Powerful digital platforms for consumers to advertise and find properties for sale or rent already exist. We built offMLS to fill an underserved gap in the tech universe between consumer-driven apps and the MLS.
Client focused
Our membership is open to all brokers, regardless of volume production or brokerage affiliation. A bigger broker audience for your listings and want ads means a higher level of service to your clients.
Rapidly growing
Less than a year after launch in Illinois, offMLS has over 600 members. That's more than double the size of our nearest competitor in Illinois, and our numbers are continuing to grow at an exciting pace.
Efficient platform
Listing entry is quick and intuitive. Communication between brokers to schedule showings and with clients to share listings is simple and direct.
Trusted by top-producing brokers from major firms.
"offMLS is an integral part of my real estate toolbox. As a listing agent, it gives me the ability to create a larger buzz about a new listing in a very easy-to-use fashion and to captivate interest before we hit the market. As a buyer's agent, I get the insider track on the data before the rest of the market does."
Amanda McMillan
CHICAGO HOME PARTNER, @PROPERTIES
"offMLS has given me an advantage over other agents that rely solely on the MLS. Sellers love the added pre-market traffic and increased level of motivated buyers. Buyers love that I can find them something off market that might otherwise lead to a bidding war and/or ultimately losing out the property. It's all about adding value to a deal — offMLS does just that!"
John Federici
KRAIN REAL ESTATE
"Our group has had a great experience leveraging the offMLS platform for our buyers and sellers. It has been an additional and useful tool that keeps us on the pulse of Chicago real estate."
Julie Dorger and Sara McCarthy
THE DORGER MCCARTHY GROUP, COLDWELL BANKER
"You can twiddle your thumbs waiting for new listings to come on, or you can use the means you have to get your client out front. Thanks to offMLS, I was able to identify a property early on for a buyer who'd been trumped by higher bidders on two other properties. This time we got the deal done."
Anant Deoras
BERKSHIRE HATHAWAY HOMESERVICES
"offMLS is an easy tool for all brokers to use, whether they're top producers or just starting out. When inventory isn't great, it's wonderful to be able to open the app and find pocket listings that haven't even come on the market yet, and to contact brokers to see properties. It is by far the best app/website that I've been able to use in my career as a broker. 5 stars!"
Steve Davis
BAIRD & WARNER
Ready to get started? Join today — it's free.